Senna alexandrina (leaf)
From AHPA Botanical Identity References Compendium
Nomenclature
Senna alexandrina Mill.   Fabaceae  
Syn. Cassia acutifolia Delile; Cassia angustifolia Vahl; Cassia lanceolata Forssk.; Cassia senna L.; Senna acutifolia (Delile) Batka; Senna angustifolia (Vahl) Batka  
Standardized common name (English): senna  
Ayurvedic name(s): svarnapatri  
Pinyin name(s): xia ye fan xie; jian ye fan xie; fan xie ye (leaf)
Botanical Voucher Specimen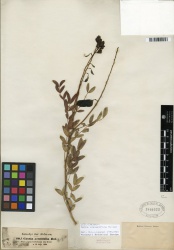 Source: MOBOT, Tropicos.org[1]
Organoleptic Characteristics
Macroscopic Characteristics
Cassia acutifolia is a small undershrub, two or three feet high, with a straight, woody, branching, whitish stem; but, according to Landerer, the senna plant attains the height of eight or ten feet in the African deserts. The leaves are alternate and pinnate, with glandless petioles, and two small narrow pointed stipules at the base. The leaflets, of which from four to six pairs belong to each leaf, are almost sessile, oval-lanceolate, acute, oblique at their base, nerved, from half an inch to an inch long, and of a yellowish-green color. The flowers are yellow, and in axillary spikes. The fruit is a flat, elliptical, obtuse, membranous, smooth, grayish-brown, bivalvular legume, about an inch long and half an inch broad, scarcely if at all curved, and divided into six or seven cells, each containing a hard, heart-shaped, ash-colored seed.

Cassia angustifolia, as usually grown is annual, but with care it may be made to live through the year, and then assumes the character of an undershrub. It has an erect, smooth stem, and pinnate leaves, with from four to eight pairs of leaflets. These are nearly sessile, lanceolate, obscurely mucronate, oblique at the base, smooth above and somewhat downy beneath, with the veins turned inward so as to form a wavy line immediately within the edge of the leaflet. The most striking character of the leaflet is its length, which varies from 2 to 5 cm. The petioles are without glands; the stipules minute, spreading and semi-hastate. The flowers are bright yellow, and arranged in axillary and terminal racemes rather longer than the leaves. The legume is oblong, membranous, tapering abruptly at the base, rounded at the summit, and 4 to 5 cm. long by about 1.5 cm. broad.

Source: United States Dispensatory (1918) [2]
| | | |
| --- | --- | --- |
| | | |
| Source: PlantaPhile[3] | Source: PlantaPhile[4] | Source: PlantaPhile[5] |
Microscopic Characteristics

Crystal bearing fiber showing prismatic crystals observed at 400x with Acidified Chloral Hydrate Glycerol Solution.
Source: Elan M. Sudberg, Alkemist Laboratories[6]


Thick walled unicellular trichome from leaf epidermis observed at 400x with Acidified Chloral Hydrate Glycerol Solution.
Source: Elan M. Sudberg, Alkemist Laboratories[7]
High Performance Thin Layer Chromatographic Identification
Supplementary Information
HPLC method, Takahashi, et al., 2014
Identification of indicator components for the discrimination of Cassia plants in health teas and development of analytical method for the components.
Abstract. Components that could be used as indicators for the discrimination of senna (Cassia angustifolia) from other cassia plants contained in health teas were identified, and an analytical method for the components was developed. Our results revealed two components in senna that were not found in other Cassia spp. widely used in health teas, such as C. alata, C. corymbosa, C. obtusifolia, and C. occidentalis. Structural elucidation of the two components showed that they were isorhamnetin-3-O-gentiobioside and tinnevellin glucoside. We analyzed commercial health teas using the HPLC method developed in this study. The two indicator components were detected at 366 nm using an RP C18 column and gradient elution with a mixture of water and acetonitrile (with formic acid), as the mobile phase. Our analytical method by HPLC enabled the differentiation of senna from other Cassia plants present in health teas in which sennosides A and B were detected. Moreover, this method allowed us to predict the parts of senna in health teas from the amounts of isorhamnetin-3-O-gentiobioside and tinnevellin glucoside contained in the teas.[8]
HPTLC method, Shah, et al., 2000
Estimation of individual sennosides in plant materials and marketed formulations by an HPTLC method.
Abstract. Senna is a well-known drug, used in the Ayurvedic and Allopathic systems of medicine, and is a treatment for constipation. The purgative action of senna and its formulations is due to the presence of sennosides A and B. An HPTLC method has been developed for the determination of individual sennosides (A, B, C, D) without any derivatization in marketed formulations (three tablet formulations, two granule formulations and one liquid formulation) and plant materials (senna leaf and pod). The methanolic solution of a sample was applied on a pre-coated silica gel G60 F254 TLC plate (E. Merck.) and was developed using n-propanol : ethyl acetate : water : glacial acetic acid (3 : 3 : 2 : 0.1 v/v) as the mobile phase. The relative band speeds (Rf values) obtained were 0.35, 0.25, 0.61, 0.46 for sennosides A, B, C and D, respectively. The densitometric response was monitored at 366nm. Calibration curves were found to be linear in the concentration ranges 193-1356, 402-2817, 71-497 and 132-927 ng per spot for sennosides A, B, C, and D, respectively. The correlation coefficients were found to be 0.9978, 0.9987, 0.9939 and 0.9983 respectively for sennosides A, B, C and D. The result obtained with the HPTLC method for total sennoside content was compared with the results using the pharmacopoeial methods (spectrophotometric (British Pharmacopoeia) and spectrofluorimetric (United States Pharmacopeia) using the 'F' test). The results revealed no significant difference in the three different methods for estimation of total sennoside. The proposed HPTLC method was found to be simple, specific, precise, accurate and rapid. It can be used for routine quality control of sennosides or senna-containing formulations for individual sennosides.[9]
DNA RAPD method, Khan, et al., 2011
Authentication of the medicinal plant Senna angustifolia by RAPD profiling.
Abstract. In this study "RAPD" molecular marker was employed for the identification of Senna angustifolia, Senna acutifolia, Senna tora and Senna sophera. Total 32 decamer primers were screened in amplification with genomic DNA extracted from all species, of which 6 primers yielded species-specific reproducible bands. Out of 42 loci detected, the polymorphic, monomorphic and unique loci were 24, 2 and 16, respectively. Based on dendrogram and similarity matrix, 4 species were differentiated from each other and showed more divergence. Thus, this technique may prove and to contribute the identification of these species of Senna having similar morphology sold in the local markets.[10]
Sources