Caulophyllum thalictroides (root)
From AHPA Botanical Identity References Compendium
Nomenclature
Caulophyllum thalictroides (L.) Michx.   Berberidaceae  
Standardized common name (English): blue cohosh
Botanical Voucher Specimen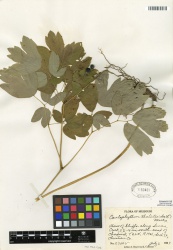 Source: MOBOT, Tropicos.org[1]
Organoleptic Characteristics
Macroscopic Characteristics
Perennial herb, stem 0.6 M. (2°) high, smooth, with large triternatey compound leaf at summit; leaflets 3-5-lobed; flowers greenish-yellow.

Rhizome horizontal, 10 Cm. (4') long, 8 Mm. (1/3') thick, knotty from concave stem-scars on upper surface, grayish-brown, tough, woody; roots many, matted, 12.5 Cm. (5') long, 1 Mm. (1/25') thick.

Source: Culbreth, D. (1917) A Manual of Materia Media and Pharmacology, 6th ed. [2]
Blue cohosh is from 1 to 3 feet in height and bears at the top one large, almost stemless leaf which is divided into three divisions consisting of three leaflets each. The latter have from three to five lobes. During its early growth the plant is covered with a bluish-green bloom which gradually disappears. The small greenish-yellow flowers are borne in small heads during April and May. The small round seeds, which ripen in August, are borne on stout stalks and resemble dark-blue berries. The thick, crooked rootstock is covered with a mass of matted roots.

Source: American Medicinal Plants of Commercial Importance (1930) [3]

Source: PlantaPhile[4]
Microscopic Characteristics
High Performance Thin Layer Chromatographic Identification
Supplementary Information
Sources