Coix lacryma-jobi (seed)
From AHPA Botanical Identity References Compendium
Nomenclature
Coix lacryma-jobi L.   Poaceae  
Standardized common name (English): Job's tears
Botanical Voucher Specimen
| | |
| --- | --- |
| | |
| Source: MOBOT, Tropicos.org[1] | Source: MOBOT, Tropicos.org[2] |
| | | |
| --- | --- | --- |
| | | |
| Source: Royal Botanic Gardens, Kew.[3] | Source: Royal Botanic Gardens, Kew.[4] | Source: Royal Botanic Gardens, Kew.[5] |
Organoleptic Characteristics
Macroscopic Characteristics
Microscopic Characteristics
High Performance Thin Layer Chromatographic Identification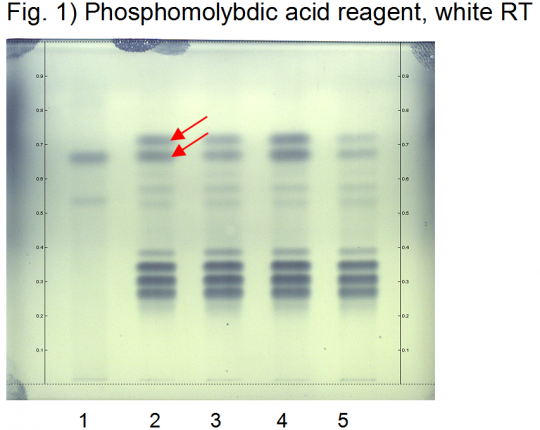 Job's tears seed (seed) (Coix lacryma-jobi)
Lane Assignments Lanes, from left to right (Track, Volume, Sample):
2 µL Oleic acid
2 µL Job's tears seed 1
2 µL Job's tears seed 2
2 µL Job's tears seed 3
2 µL Job's tears seed 4 
Reference Sample(s) Reference: Dissolve 2 mg of oleic acid in 1 mL of methanol. 
Stationary Phase Stationary phase, i.e. Silica gel 60, RP-18, F254 
Mobile Phase Dichloromethane, acetic acid, acetone 20:40:50 (v/v/v) 
Sample Preparation Method Sample: Mix 1 g of powdered sample with 10 mL of petroleum benzene (40-60°C) and sonicate for 10 minutes. Concentrate solution to 1 mL under vacuum. Dilute 1:10 with petroleum benzene (40-60°C).
Derivatization reagent: Phosphomolybdic acid reagent, Preparation: 5 g of phosphomolybdic acid are dissolved in 200 mL of ethanol, Use: Dip (time 0, speed 5), heat at 120°C for 5 min. 
Detection Method Saturated chamber; developing distance 70 mm from lower edge; relative humidity 33% 
Other Notes Images presented in this entry are examples and are not intended to be used as basis for setting specifications for quality control purposes.
System suitability test: Oleic acid: blue zone at Rf ~ 0.66; Blue zone at Rf ~ 0.72.
Identification: Compare result with reference images in. The fingerprint of the test solution is similar to that of the corresponding botanical reference sample. Additional weak zones may be present. The chromatogram of the test solution shows a blue zone at Rf ~ 0.66 corresponding to reference oleic acid and right above it another blue zone (red arrows). Two weak blue zones are seen between Rf ~ 0.50 and 0.60. A cluster of four blue zones is detected between Rf ~ 0.25 and 0.40.

Source: HPTLC Association [6]

Supplementary Information
Sources