Eleutherococcus senticosus (root bark)
From AHPA Botanical Identity References Compendium
Nomenclature
Eleutherococcus senticosus (Rupr. & Maxim.) Maxim.   Araliaceae  
Syn. Acanthopanax senticosus (Rupr. & Maxim.) Harms  
Standardized common name (English): eleuthero  
Pinyin name(s): ci wu jia (root & rhizome)
Botanical Voucher Specimen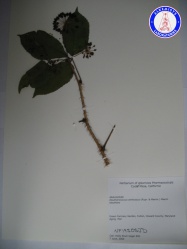 Source: Botanical Voucher Specimen Library, Alkemists Laboratories[1]
Organoleptic Characteristics
Macroscopic Characteristics
| | |
| --- | --- |
| | |
| Source: PlantaPhile[2] | Source: PlantaPhile[3] |
Microscopic Characteristics

Thick-walled lignified fiber of Eleutherococcus senticosus root viewed at 400x with Acidified Chloral Hydrate Solution.
Source: Elan M. Sudberg, Alkemist Laboratories[4]


Large rosettes viewed at 400x under polarized light with Acidified Chloral Hydrate Solution.
Source: Elan M. Sudberg, Alkemist Laboratories[5]
High Performance Thin Layer Chromatographic Identification
Eleuthero (root) (Eleutherococcus senticosus)
Lane Assignments Lanes, from left to right (Track, Volume, Sample): (2 μL of references, 10 μL of test solutions)
2 μL Eleutheroside E
2 μL Eleutheroside B
10 μL Eleuthero extract 1
10 μL Eleuthero extract 2
10 μL Eleuthero root
5 μL Periploca sepium root 
Reference Sample(s) Reference: Dissolve 1 mg of eleutheroside B and 1 mg of eleutheroside E individually in 1.5 mL of ethanol-water (1:1). 
Stationary Phase Stationary phase, i.e. Silica gel 60, F254 
Mobile Phase Chloroform, methanol, water 70:30:4 (v/v/v) 
Sample Preparation Method Sample: Mix 1 g of powdered sample with 5 mL of ethanol-water (1:1) and sonicate for 10 minutes, then centrifuge or filter the solutions and use the supernatants / filtrates as test solutions
Sulfuric Acid Reagent: Preparation: 20 mL of sulfuric acid are mixed with 180 mL of ice-cooled methanol 
Detection Method UV/Vis, Sulfuric Acid Reagent Use: Dip (time 0, speed 5), heat at 100°C for 5 min 
Other Notes System suitability test: After derivatization the fingerprint of the test solution shows a zone corresponding to eleutheroside B and another zone directly below. These two zones appear as two distinct bands, compare lane 2 with lanes 3, 4 and lane 1 with corresponding feature in 3, 4. An arrow marking the distinct bands appears in the illustration in further methodology, below.
Identification: Compare result under UV 254 nm and white RT with reference images in Image Comparison Viewer. The fingerprint of the test solution is similar to that of the corresponding botanical reference sample. Additional weak zones may be present.
Eleuthero: The chromatogram of the test solution shows bands corresponding to eleutherosides E (Rf 0.34) and B (Rf 0.45), and two very strong bands near the application zone. Additional brownish-purple zones are seen between eleutheroside E and the solvent front.
Periploca sepium Adulteration: No band corresponding to eleutheroside B is seen, but strong brown bands at Rf=0.53 and Rf=0.28 are detected.
Further methodology available here, in Identification method of Eleutherococcus senticosus by HPTLC.
Source: AHPA Practical, CAMAG HPTLC [6]

Supplementary Information

Eleuthero (root bark) (Eleutherococcus senticosus) 
General Characteristics AHPA recommends in its Known Adulterants list that appropriate steps be taken to assure that this raw material is free of the noted adulterant. Contact AHPA for additional information regarding relevant analytical methods or follow this link for more information. 
Reported Adulterants Periploca sepium root.
Source: AHPA Known Adulterants [7]

AHPA Practical: Identification and Quality Control of Eleuthero (root) (Eleutherococcus senticosus)

Introduction
Neonatal androgenization was associated with the ingestion of a product during pregnancy, which was labeled as containing Siberian ginseng (1). The image on the product was of an actual ginseng plant (Panax spp.) not Eleutherococcus senticosus (formerly sometimes referred to as Siberian ginseng) and analysis of the product indicated that neither eleuthero nor ginseng compounds were present, but that Chinese silk vine (Periploca sepium) was (2).
Methods of Analysis
HPLC Method
Quality control of roots of Eleutherococcus senticosus by HPLC
HPTLC Method
Identification method of Eleutherococcus senticosus by HPTLC
References
Koren G et al. Maternal ginseng use associated with neonatal androgenization. Journal of the American Medical Association, 1990, 264:1866.
Additional Information
Awang D. Siberian ginseng toxicity may be case of mistaken identity. CMAJ. 1996 Nov 1;155(9):1237.
Waller DP et al. Lack of androgenicity of Siberian ginseng. Journal of the American Medical Association, 1991, 265:1826.
Sources