Stephania tetrandra (root)
From AHPA Botanical Identity References Compendium
Nomenclature
Stephania tetrandra S. Moore   Menispermaceae  
Standardized common name (English): stephania  
Pinyin name(s): fen fang ji; han fang ji; fang ji (root)
Botanical Voucher Specimen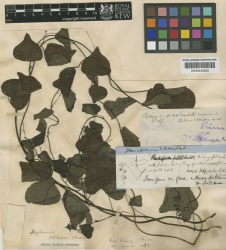 Source: Royal Botanic Gardens, Kew.[1]
Organoleptic Characteristics
Macroscopic Characteristics
Microscopic Characteristics
High Performance Thin Layer Chromatographic Identification
Supplementary Information

Stephania (root) (Stephania tetrandra) 
General Characteristics AHPA recommends in its Known Adulterants list that appropriate steps be taken to assure that this raw material is free of the noted adulterant. Contact AHPA for additional information regarding relevant analytical methods or follow this link for more information.
For a complete list of species that FDA has identified as potentially adulterated with Aristolochia spp. visit the FDA website. 
Reported Adulterants Aristolochia fangchi root (guang fang ji).
Source: AHPA Known Adulterants [2]

Sources
↑ Royal Botanic Gardens, Kew. http://specimens.kew.org/herbarium/K000644630
↑ AHPA Known Adulterants http://www.ahpa.org/